Our expertise in sports coaching, combined with the diverse range of activities we offer, have been a hit with language schools across Devon for many years. We have a passion for delivering sessions with high energy and creating memories for all those involved. Our services to language schools are vast and can include one off activities, weekly sessions or the ability to create a unique activity programme, which includes recruitment of activity leaders.
We utilise the local facilities and try and find cost efficient solutions. In our sessions we actively encourage the use of the English language.

Nerf Wars
Nerf guns are accompanied by soft foam bullets, inflatable bunkers and eye protection, for a safer and less messier alternative to paintball. We tackle a range of games including Solos, Duos, Capture the Flag and other team games. Nerf Wars are full of laughter and problems to solve.
Available for aged 6+.
Glow Sports
Includes face paint, florescent bibs, glowing balls and line markers - which all come to life under our UV lights. Add music and you have an activity like no other! We are able to provide a range of games including; Football, Dodgeball, Netball, Basketball, Nerf Wars and Neon Discos.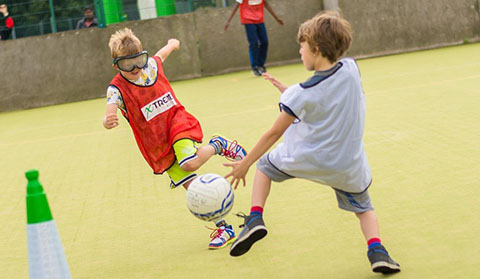 Goggle Football
This new sport involves visual impairment goggles and football - the results are hilarious. We rotate the players wearing the goggles to ensure they all have their time in the... limelight!​
Zorbing / Zorb Football
Zorbing is an exhilarating activity which can include football or not, depending on your group. Enjoy games such as Bull Dog and Last Person Standing in an inflatable bouncy ball. What is there not to enjoy!?
Available for participants aged 7+.​
Soft Archery
This is a great introduction to archery. Our bows are specifically designed for children. The aim of Soft Archery is to hit the targets and gain as many points as possible. Our staff will teach participants how to load and fire the bow, with plenty of math games, to add a competition element.​
Old School Sports Day
A spin-off of the traditional sports day (how it should be). Great for large groups, teams will battle it out at the following challenges; Large Egg and Spoon, Bouncy Hoppers, Tug O War, Three Legged Races, Bean Bags and more.​
Dodgeball
"If you can dodge a ball you can dodge a wrench!" Dodgeball is a fantastic team sport for all ages. We have a range of new and old games to entertain any group. We use foam dodgeballs, to ensure safety of players.​
Volleyball
We have a range of portable nets we are able to set up at your school. We run a volleyball masterclass with our director Danny, who played Volleyball for GB. Volleyball is a brilliant team game and allows children to learn a new and exciting sport.​
Traditional Sports
As well as a lot of our alternative sports, all of our staff deliver a range of sports after school and during. We are able to come in and deliver; Tennis, Cricket, Football, Tag Rugby, Basketball, Netball, Handball, Ultimate Frisbee, Tri-Golf, Rounders and more.​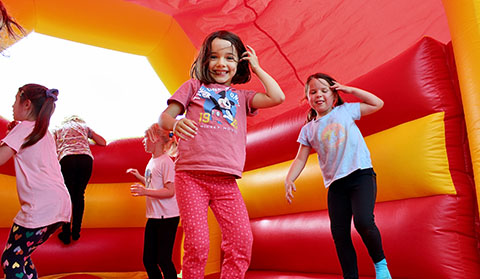 Bouncy Castle
Our bouncy castle also has a slide. It is perfect for younger children and a great addition to any occasion.
Size: 4.57m x 5.48m / Height: 3.1m
​
Archery Tag
Everyone wants the chance to be the next Robin Hood. Archery Tag is a mixture of paintball and dodgeball, without the paint. We use full size bows, with foam ball arrows. We create a playing arena with inflatable bunkers and camouflage netting. Available for participants aged 7+
We strive to make our prices as affordable as possible for your school.
Please get in touch below to receive a free quotation:
Email: info@sportystars.co.uk Tel: 01392 984233

Hello Exmouth partnered with Sporty Stars to improve our sports course we offer to our international students, aged 13 – 17. The amazing feedback we've had from them students alone has been enough for us to want to continue working with them. Every students has commented positively on the coaches provided and most said it was the best part of their stay. Bubble Football has been a huge hit!
Laura DrakeOperations Manager, Hello Exmouth!"
We deliver over 500 events a year, so you can rest assured you are in safe hands. Our enthusiastic staff all hold recent DBS, Safeguarding and First Aid Certificates. All of our equipment is regularly updated, we provide thorough risk assessments, and we are fully insured.

How This Benefits Your School
The Beach Olympics
The Beach Olympics is fun for everyone! It has been a huge success over the summer months, and a little bit of competition creates a great atmosphere. Teams battle it out in a range of activities including; Volleyball, Bucket Races, Tug 'O' War, Castle Building, Water Bucket Races & more.
All equipment provided
We recruit staff, so you don't have to
Trust in qualified experienced sports coaches
Pictures and social media updates
Stand out from the crowed by offering unique activities such as zorbing!
Increase positive feedback and returning students.
Recruiting activity leaders

Afternoon activities

Evening activities

Multi activity programmes
All equipment provided
We recruit staff, so you don't have to
Trust in qualified experienced sports coaches
Pictures and social media updates
Stand out from the crowd by offering unique activities such as zorbing!
Increase positive feedback and returning students